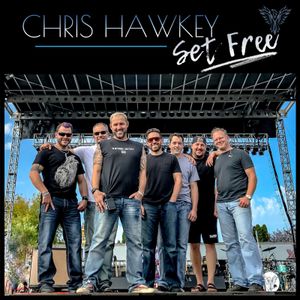 As 2018 ends and a new year begins, I want to thank you all for another year stacked with laughter, memories, and dreams come true.  
Moments...  
Life is about moments.  
We've had so many together.  
Are you ready for more? 
I'm very happy to release my new record SET FREE. 
10 songs written and performed by The Chris Hawkey Band, with just a little help from a few of our friends. 
It's, by a mile, my most personal record.  
It's also the realization of a dream my manager Sarah Jane and I came up with this past summer.  
To do one full record as a band.  
To do one full record in which I was a writer on each song.  
And... 
To do one full record that didn't live within the realm of a single classification. 
This is not a country record.  
I should say, this is not just a country record. 
This collection of tunes spans every genre.  
Producer Alex Kiel and I agreed to let each song live as it was meant to live. Rock, country, R&B, classical, whatever. The songs live as they were born to. 
That's a huge reason why the record is called SET FREE.  
In writing and recording this collection, I freed myself from genre, from expectations, and from any box that might hold back the creative flower from blooming. 
The result is a group of songs that open a window into my world. Is it a great record? I'll let you be the judge of that. But I love it more than I could have imagined. I'm so proud to have written and recorded each and every one of these songs with my friends. Every musician knocked their performances out of the park. And I don't mind telling you that I mentally wore myself to the bone writing these songs. 
I needed them to be right.  
As the record now enters the world, I can honestly say that this is the very best I could do. 
And for once I am satisfied with the result.  
We will support this record the entire year of 2019. I'm not sure what the future holds after that. But, if I've learned anything in this very lucky life it's that a person must live every day to its fullest with the knowledge that tomorrow is promised to no one.  
Let's take one more journey together, shall we?  
Let's Set ourselves Free.  
Chris Hawkey  
12/19/2018 
*New Music is Available NOW via iTunes, Google Play (click links); and under the Music Tab on this website.